Cosmetic Dentistry in Elizabeth, CO
A bright, attractive smile has the power to change your life. We've seen time and again how cosmetic dentistry can give patients a new and improved smile plus a boost in confidence. Studies have even shown how an appealing smile raises self-esteem and helps you make better first impressions!
Whether you need a subtle adjustment to perfect your smile or you want a full-on smile makeover, the team at Elizabeth Family Dental can make your goals a reality!
CONTACT US
Cosmetic Dental Treatments
Tooth-Colored Dental Fillings
Custom Veneers
Porcelain Crowns & Fixed Bridges
Custom Tray Teeth Whitening
One-Size Tray Teeth Whitening
One-Visit Teeth Whitening
What Can Cosmetic Dentistry Fix?
Not sure if cosmetic dental care is right for you? If you are dealing with any of the aesthetic dental concerns listed below, then cosmetic treatments can help you!
Yellow, discolored, or stained teeth
Chipped teeth
Crooked teeth
Mismatched sized teeth
Minor gaps or spacing between teeth
Slightly misaligned teeth
Missing teeth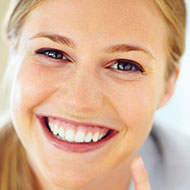 Request a Cosmetic Consultation
We invite you to come to Elizabeth Family Dental for a cosmetic consultation to see how you can enhance your smile.
During this meeting, Dr. Terry will sit down with you to discuss what exactly you would like to change or improve about your smile. He will then be able to suggest which treatments can be used to best address those issues and create an appropriate treatment plan. Dr. Terry will also be able to give you cost estimates and go over your financial options so you can be fully informed before beginning any treatment.
SCHEDULE APPOINTMENT